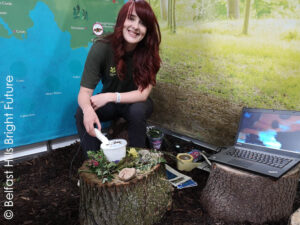 Alanna joined the Belfast Hills Bright Future project in 2017.
The Our Bright Future project has helped change my life dramatically! Before starting the programme I had just given birth to my daughter and was working a part-time bar job. Trying to juggle family life and late night shifts soon took its toll and I realised I needed to make a drastic decision.
I joined the project and immediately feel in love with all things outdoors. The team at Belfast Hills helped us achieve so much in such a short time, from soft skills such as working as team, communication and confidence, to practical skills such as working with different tools and conserving natural spaces.
Alongside this we also took part in the John Muir Award, this allowed us to gain qualifications while working outside. We learned key transferable skills such as surveying using kick samples, transects and visual surveys.
Because of this programme I realised my love for nature and became driven to help conserve and protect our green spaces. With the skills and qualifications I gained from the project I was then able to go on and get an assistant ranger job with the National Trust and now help take care of some of the most stunning and wildlife rich areas.
I am now able to take young people like myself in guided walks and introduce them to wildflowers, butterflies or bumblebees which beforehand they would have walked past. Without this programme and the help of the Belfast Hills, none of this would be possible!
Before I took part in the programme I thought a career in conservation would be far fetched, that only people with university degrees would be suitable. But through the programme I developed the key skills needed in order to help me gain a great job in a field I love with a well-respected conservation charity.