This blog is written by Rebecca Farrar, a Geography and Environmental Science student and Avon Wildlife Trust's Our Bright Future Youth Forum Representative.
What comes to mind when you think of reducing water use? You will probably jump straight to having shorter showers, installing smart meters and turning off taps. All of which is important of course but did you think about the impact of what's on your plate or in your wardrobe?
Quality over quantity
Something which is often overlooked in the debate about meat and dairy is the importance of livestock for soil health. The problem with meat and dairy consumption isn't eating animals, it's the way we are raising livestock and the quantity that we eat. Part of the issue with modern agriculture is feeding animals grains. Grains take extra resources (water and land) to grow in the first place. Livestock grain is regularly made of products such as soy, which are often grown in the tropics, typically South America, leading to deforestation. This makes animal products from industrial agriculture more burdensome on water use and the planet. But when we let livestock roam and eat grass, we cut out the need for excess grain to be produced. When livestock are free to roam, they add microbes and nutrients to the soil through manure which helps us to achieve healthy soil, essential for our water cycle. Overall, there needs to be focus on less but better-quality meat from pasture fed animals. This still means prioritising vegetables and grains in our diets, but high-quality meat and dairy can be consumed in small quantities.
Quality over quantity can also be applied to eating unprocessed foods. Eating whole foods is another way to look after yourself and the planet. Extra water is used in the cleaning, cooking and making packaging of processed foods. Therefore, by choosing to make your own you are helping the planet.
Less is more
It's not just food which is a culprit when it comes to water use. The fashion industry uses an estimated 79 billion cubic metres of fresh water each year. This would be enough to fill 32 million Olympic size swimming pools (enough water for about half of the UK population to have their own Olympic size swimming pool!). Water is used in the growing and production of fibres as well as the dyeing of clothes. One kilogram of cotton can take as much as 20,000 litres to produce. When you consider that, 1 in 3 people still don't have access to safe drinking water, how can we use so much water on producing clothing we don't even need? (WHO, 2019). The Aral sea has nearly entirely dried up mainly due to intensive cotton farming. It's not just the use of water but also chemicals discharged from the production of clothes which pollutes the water system.
As consumers we must demand that brands step up so every piece of clothing on the market has been made ethically. There is already enough clothing in the world, so it is a matter of recycling and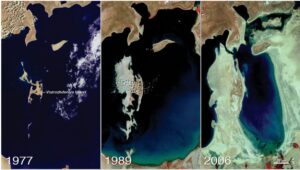 renewing our fabrics, not depriving our resources.  Ethical and sustainable clothing needs to become the minimum standard, not a luxury. Some ways we can all assist in this transition is looking after the clothes you already own, buying only what you need, purchasing second hand (Depop, Vinted, vintage and charity shops), clothes swapping with friends, recycling clothes at the end of their life and campaigning for change.
This article has skimmed the surface of some of the challenges that agriculture and fashion present to our water system. In terms of our agricultural system, quality over quantity, eliminating food waste, eating seasonally and moving to regenerative practices are only some examples of how it must change.
The fashion industry cannot act as if the earth is an infinite source of resources. The food system cannot act as if life on earth is a commodity. As consumers, you have the power to make decisions that will create the system you want to see. Does the system you believe in work for or against our planet? As a society, it's up to us on whether we sustain the very resources that sustain us.